Stressed-Out Parents: How to Stay Sane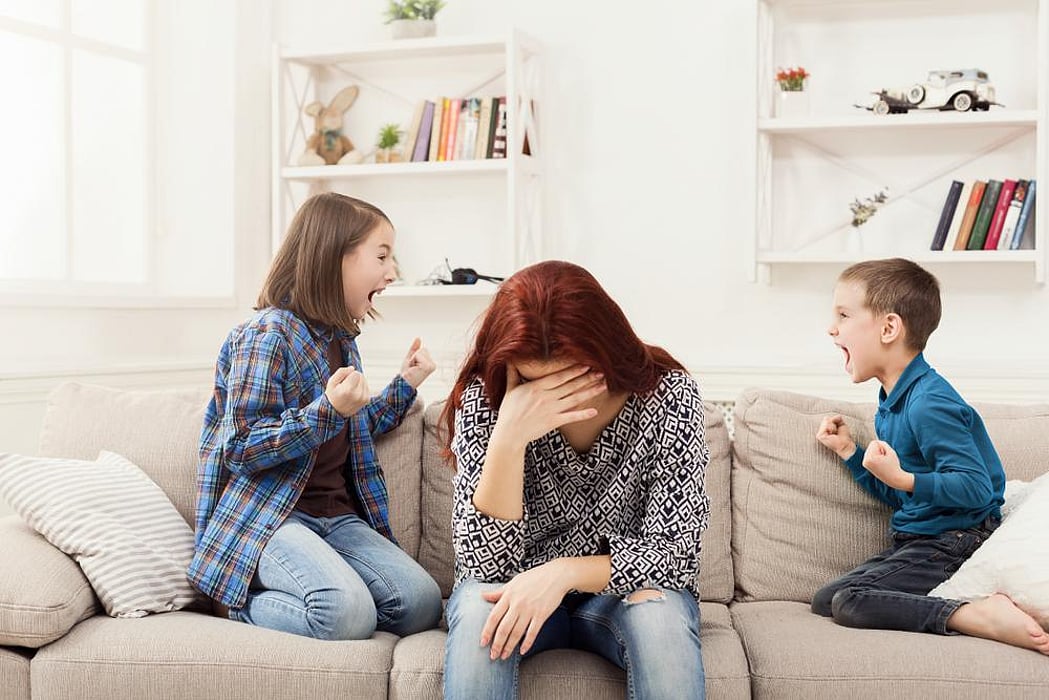 Parenthood is the hardest job you'll ever have, and like any new job, it takes practice to get good at it. In the old days, we had our parents and aunts and uncles nearby to help us learn (and to help take care of the kids). Now we're apt to live thousands of miles from our first families, and often we're trying to be the "village raising a child" all by ourselves. Of course, your kids take priority, but if you keep pushing your own needs aside -- even basic ones like eating and resting -- it's easy to get burned out, isolated, even depressed. And with the pandemic -- part of which a lot of us spent trying to work at home with the kids in two -- things got exponentially harder.
The authors of a book called Mother Nurture even have a term for it -- "depleted mother syndrome." These days, with more dads staying home, we can add "depleted dad syndrome" to the list, too. So to keep you in top parenting shape, sometimes you need to create little pockets of time for yourself. It might seem impossible to squeeze in anything extra, but the effort is worth it.
Of course, don't feel stressed or put extra pressure on yourself if it's too hard to live up to all these goals right now. If you add just one or two items on this list to your routine, you may be surprised how much better your day will go.
1. Get help. If you ever feel the urge to scream or find you are dragging yourself around in a fog of exhaustion, you need help. If you can't pay a lot for childcare, there are other options. Find another mom in the neighborhood who's up to date on COVID vaccinations and swap a few hours of childcare each week. If you're worried about a babysitter's abilities, have her take care of the baby while you're in the house so you can watch her while getting a little more time to yourself. Check local parenting resources for more ideas.
2. Make sure you eat. You need to eat well to stay healthy, keep up your energy, and produce enough milk (if you're nursing). If you're too tired to shop or cook, or too rushed to make a meal and sit down to eat, maybe you can stock up on healthy packaged foods or have "heat-and-eat" meals delivered rather than take-out. Nuts, dried and fresh fruit, and yogurt are other good choices. Taking a daily multivitamin is a good idea, too.
3. Take mini breaks during the day. After you put the baby down for a nap, take a 10-minute break to recharge -- the dishes, laundry, and vacuuming can wait a little longer. Take a shower, make some tea, sit down with a magazine, or sit in the garden and clear your head. If baby is being cranky, plop him in the stroller or carrier and go out for a little walk. The fresh air will help you both.
4. Make time for yourself and the things you love. Parenting is a hard job. But like any other job, you can't be expected to work every waking minute. Whether it's for half an hour or half a day, you need to get away from the house sometimes and indulge your interests or guilty pleasures. Every week, have your partner take the kids for a while you read in a cafe, take a long walk, or get a massage. On your lunch break at work, stop in at a bookstore and browse the latest releases, or on your way home, pick up a treat to share with your sweetie after dinner.
5. Schedule dates with your partner. New parents often find that they rarely sit down and talk, and sex is no more than a pleasant memory. If your relationship needs a boost, you both need to make it a priority, just like grocery shopping or paying the bills. If your child isn't sleeping well at night yet, try a daytime date -- a long lunch, ferry ride, hike or walk around the neighborhood can be a great way to spend an afternoon. Even if you don't have cash for a babysitter, you can have a "date" after putting the kids to bed. Clear your schedule one night a week and pop some corn, put on a movie, and make out on the couch. Or open some wine, give each other a backrub, and see where things lead.
6. Don't forget to exercise. As if running up and down stairs, rocking a baby for hours, and doing housework isn't enough, you ask? Yes and no. While you're burning lots of energy caring for the house and kids, you may be overstraining some muscles or ignoring others. A balanced workout with some strength and flexibility training can give you more energy for your busy life and keep you from hurting yourself. And the time you spend exercising can also be valuable for thinking or meditating. Best bets include walking, biking, or swimming combined with yoga, Pilates, or weight training. You don't always have to leave the house for a workout, especially for strength and flexibility -- rent or borrow different videos until you find one you like. Better yet, consult a personal trainer and have her design a workout for you to do at home with minimal equipment. (Personal trainers at YMCAs sometimes offer free sessions.)
7. Stay in touch with your old self. Having a baby transforms your life, and for many, it takes a while -- even years -- to get adjusted to their new role as Mama or Daddy. And while you'll never have your carefree single life back, you don't have to give up the person you used to be. Try to stay in touch with old friends and meet them regularly, whether it's for a weekly bike ride or monthly brunch (hold the brunch outdoors if your children are too young for a Covid vaccination). If you're a stay-at-home parent who's getting burned out, consider going back to work -- besides having adult conversation with your friends and colleagues again, you may feel happier using your talents more fully. Some parents say working away from home reduces the stress of caregiving, and they have more energy and fun with their kids when they're home.
8. Make new friends. Being a new parent is confusing, and you can use all the advice you can get. Especially if your old friends don't have kids or your family lives far away, it's time to add new "parent friends" who know what you're going through. If you can get child care and your youngest kids are vaccinated, take a parenting class -- you're bound to meet some kindred spirits there. If your child is adopted, chances are there's an online parent's support group sponsoring activities in your area. Once your kids are old enough to wear a mask or be vaccinated, a mother's group or playgroup is another great way to find playmates for your kids as well, and while they play you can chat -- and vent-- with other parents.
9. Plan ahead. Planning takes time, but the payoff is worth it. Figure out what you want to cook for the week and get everything you need in one grocery trip. Keep track of errands -- post office, ATM, birthday gift -- and do them all in one trip out. Get dinner prepped or started earlier in the day so that you won't be cooking frantically while your toddler is hungry and howling.
10. Use timesavers. The phone and Internet are your friends. You might have discovered this while you were pregnant and were too tired to drive all over town looking for that crib sheet and changing pad -- always call ahead and see if a hard-to-find item is in stock. If it is, reserve it so it'll still be there when you get over to the store. Better yet, order it and have it delivered. You might not like to pay the shipping fee, but it'll save you the time and trouble of getting yourself and baby ready and out the door, plus you'll save on gas or fares. Think of other ways you could save time -- a crockpot to cook your stew while you're at work, automatic bill payments to save you time and late fees, and recording your favorite TV shows so you can watch them anytime and fast-forward through the commercials.
11. Find some places where you and baby can both relax. No matter how cozy your home is, you don't want to feel trapped in it. Get to know the tot-friendly parks in your area -- they're good places to meet other parents. Check out your local YMCA -- most have reduced fees or scholarships if income is a problem. Find out if your library or local bookstore has a regular storytime for young children.
12. Keep it simple. Try not to go overboard with kiddie activities. Besides driving yourself crazy, perfectionism and over-scheduling will leave you and your child cranky and exhausted. Kids need free time to run around outside and use their imaginations, and babies are too young to really appreciate the difference between a bongo and a djembe anyway.
13. Do some social networking. If you can't get there in person, the phone, email and Facebook are all good ways of staying in touch (as long as they don't take the place of face-to-face friendship). Just remember to set your privacy settings!
14. Laugh and let some things go. Yes, the house isn't too clean. Your friends will love you anyway. Junior won't eat any vegetables this week? Keep trying and he might change his mind. (Toddlers are like that.) You let the kids watch a video while you get dinner ready? It's okay, don't feel guilty. If little things seem to be piling up and making your head want to explode, take a deep breath, relax your tense muscles, and let it go. This too shall pass. And besides, they'll only be little once.
15. Embrace your kids, flaws and all. Your kids are going to get angry over little things. They are going to talk back. They are going to be mind-bendingly irrational. Why? Because they're kids. You can help them keep those moments few and far between, but you should not expect them to be perfect. After all, your children are more than willing to accept your flaws, so you're simply returning the favor.
References
Interviews with San Francisco Bay Area parents
Rick Hanson, Jan Hanson, and Ricki Pollycove, "Mother Nurture: A Mother's Guide to Health in Body, Mind, and Intimate Relationships," Penguin Books.
Child Development Institute. Stress management for parents. http://www.childdevelopmentinfo.com/parenting/stress.shtml
Related Posts
WEDNESDAY, Feb. 8, 2023 (HealthDay News) -- Rhinoviruses and/or enteroviruses...