Could Wildfire Smoke Raise Rural Suicide Rates?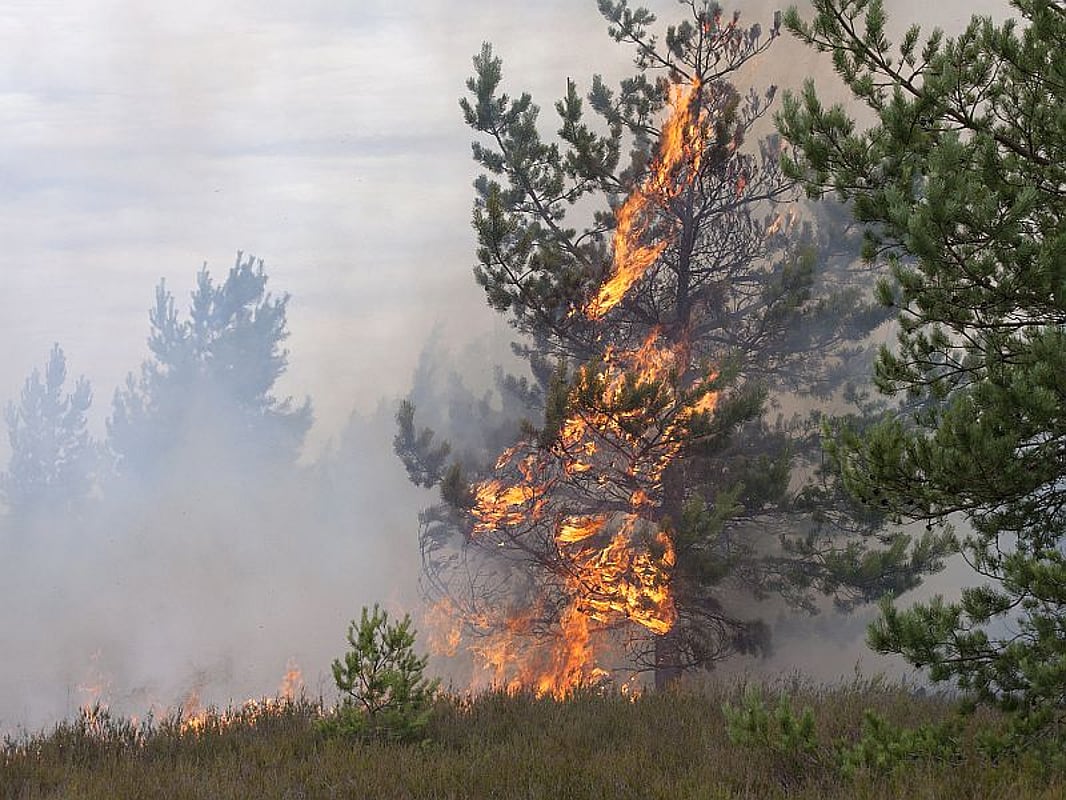 MONDAY, Sept. 11, 2023 (HealthDay News) -- As this summer has shown, the massive smoke plumes generated by wildfires can dirty the air of regions many miles away. Now a new study is raising the question of whether that pollution is contributing to suicides in rural America.
Researchers found a correlation between air pollution from "drifting" wildfire smoke and a rise in U.S. counties' suicide rates. The connection was not seen everywhere, however: It was concentrated in rural counties, and among certain groups with a relatively heightened suicide rate to begin with: white, working-age men without a college education.
For every 10% increase in wildfire air pollutants, the study found, a rural county's monthly suicide rate rose by 1.5%, on average.
The study was published Sept. 11 in Proceedings of the National Academy of Sciences. It cannot prove that dirty air is to blame. And experts said it's unclear exactly what is going on.
But the findings add to evidence tying air pollution -- and more broadly, climate change -- to mental health consequences. Recent studies have linked exposure to heavy air pollution to aggression and increased risks of depression, anxiety and even dementia.
And there is some understanding for why "junk in the air" might harm not only physical health, but mental health, too, according to David Molitor, the lead researcher on the new study.
Tiny particles in air pollution, including drifting wildfire smoke, can be inhaled deeply into the lungs and enter the bloodstream.
"The small stuff can penetrate cell membranes and cause stress at the cellular level," said Molitor, an associate professor at the University of Illinois at Urbana-Champaign.
That, he noted, includes cells in the brain. So breathing in air pollutants may not only trigger a heart attack or worsen lung disease in vulnerable people, Molitor said, but may also exacerbate existing mental health conditions.
For the new study, his team focused on wildfire-generated air pollution -- in part because wildfires are expected to become increasingly common and intense in coming years, due to rising temperatures, drought and development in previously wild terrain.
But there's also the fact that wildfire smoke plumes travel long distances, and most people exposed to the air pollutants actually live far from the wildfire itself, Molitor said. So worsening mental health in those populations would not be attributable to, say, trauma from the natural disaster.
The researchers used satellite data to track wildfire plume locations across the United States, as well as ground-level air pollution concentrations in U.S. counties, between 2007 and 2019. They compared fluctuations in counties' monthly air pollution levels against trends in their suicide rates.
Over the study period, suicide rates were consistently higher in rural counties, versus urban, and also showed a steeper increase over time. Suicide deaths in rural counties rose from about 12 per 1 million residents each month in 2007, to around 16 deaths per million residents by 2019.
Suicide rates in rural counties also appeared to be more sensitive to air pollution changes, the researchers found: Worsening air quality correlated with an increase in suicides in rural areas only.
The increase was greatest during the month of exposure to dirty air, but the researchers estimate that the impact lasts about five months.
Drilling down even further, Molitor's team found that the pollution-suicide link was concentrated among white working-age men with a high school diploma or less. That's a group with a relatively heightened suicide rate, on average, Molitor noted.
However, older adults are also known to have an increased suicide risk -- yet air pollution showed no effect on those deaths among rural residents age 65 and older.
One possible explanation, Molitor said, is that working-age people in those counties have more air pollution exposure, including through outdoor work.
Dr. Joshua Wortzel is chair of the American Psychiatric Association's committee on climate change and mental health.
He said that while this study does not prove cause-and-effect, it's in line with research linking heat waves to deteriorating mental health and increases in suicide attempts and deaths.
In general, Wortzel said, it's thought that extreme heat can harm mental health both directly -- via inflammation in the brain, for example -- and indirectly: Poor sleep, for instance, may exacerbate existing psychiatric conditions.
Similarly, Wortzel said, air pollution may have direct and indirect effects.
As for the findings on rural counties, Wortzel said he wonders if there's a role for limited access to health care in those areas. People may not get help for mental health symptoms -- and, in the event of a suicide attempt, may be less likely to get emergency care in time, versus city residents.
"This is a really eye-opening study," Wortzel said. "Hopefully, it will give policymakers even more fodder to address climate change."
More information
The American Psychiatric Association has more on climate change and mental health.
SOURCES: David Molitor, PhD, associate professor, finance, Gies College of Business, University of Illinois at Urbana-Champaign; Joshua Wortzel, MD, chair, committee on climate change and mental health, American Psychiatric Association, Washington, D.C., and child and adolescent psychiatry fellow, Brown University Warren Alpert Medical School, Providence, R.I.; Proceedings of the National Academy of Sciences, Sept. 11, 2023
Related Posts
VIERNES, 10 de junio de 2022 (HealthDay News) -- Los bebés de las mujeres...